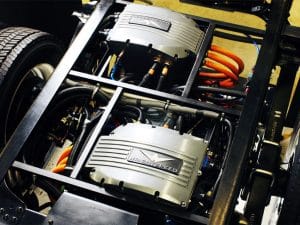 Anytime there is a demand, business will rise to satisfy it – at a profit! We now face a huge demand. Our very livelihood is at stake. The denigration of our environment will put us out of work, out of our homes, and in the hospital. Already we see the effects of a major drought increasing the cost of fruits and vegetables. The acidification of the oceans from CO2 is resulting in sky high prices for fish and the collapse of major fisheries. Climate-caused immigration is flooding Europe and soon the Americas. And the air pollution in China is choking their citizens and blowing across the Pacific. This is a real and serious demand for businesses that mitigate or reverse this situation!
Want to solve the balance of payments problem? Export clean energy production equipment and technology to China and India. There's a huge demand! Want to reduce your taxes? Invest now in the businesses that mitigate the high cost of super storm recovery and drought related food costs. There's a huge demand! Want to create jobs? Provide tax advantages to producers and consumers of alternative energy. It's a market that's not going away. In fact, it comes with an ever-increasing demand.
If the federal government is hamstrung by the carbon producers, let the states like California, and local governments, like Chicago, lead the way. They can provide rules and regulations that give alternative energy the advantage over carbon. They can provide tax credits and other incentives to businesses addressing this issue. And they can provide the volume of purchases for their own uses that will reduce the price of these alternatives.
For instance, shouldn't every government vehicle be electric? We are excited by the new businesses we see popping up every day that address this demand. All electric and drive-train-conversion garbage trucks and busses are great examples. These are coming from new businesses that create local jobs and can lower taxes by reducing government and public service energy costs.
What about the postal service, the police, the utilities and so on? There's a huge market here that is only just beginning to be accessed. Local government and public service organizations can tip the scales by providing large purchases that reduce the cost of production and make alternatives competitive with conventional carbon-producing choices.
The creation and mass production of efficient home battery systems will ultimately cut the cord to the carbon-producing utility companies that argue that they are not getting paid for "storing" your solar power on their grid. Fine, cut the cord. Store it in your garage.
We live in a local government district that recently used its power of eminent domain to take over the utility company within its jurisdiction. Then it required the purchase of alternative energy to provide its subscribers. This not only sent a message to other local governments, but increased the demand for alternatively produced energy and reduced its cost.
At some point, it will become obvious that the utility companies heavily invested in carbon energy sources are trying to use their influence to stop alternative energy because they simply don't want the competition. The gas lighting companies were the largest obstacles to Edison's electric light. What changed things was the price tag. Electric lighting was eventually cheaper than gas.
This is what business, with the help of local government, must do today. Make alternative energy cheaper than carbon producing energy. They can do this with regulations, purchases, and tax breaks. In the end, producers and consumers alike want to spend less money. If the environment is saved, it will be because it's cheaper to save it, and it's also good for business!
Who We Are
Michael Houlihan and Bonnie Harvey co-authored the New York Times bestselling business book, The Barefoot Spirit: How Hardship, Hustle, and Heart Built America's #1 Wine Brand. The book has been selected as recommended reading in the CEO Library for CEO Forum, the C-Suite Book Club, and numerous university classes on business and entrepreneurship. It chronicles their humble beginnings from the laundry room of a rented Sonoma County farmhouse to the board room of E&J Gallo, who ultimately acquired their brand and engaged them as brand consultants. Barefoot is now the world's largest wine brand.
Beginning with virtually no money and no wine industry experience, they employed innovative ideas to overcome obstacles, create new markets and forge strategic alliances. They pioneered Worthy Cause Marketing and performance-based compensation. They built an internationally bestselling brand and received their industry's "Hot Brand" award for several consecutive years.
They offer their Guiding Principles for Success (GPS) to help entrepreneurs become successful. Their book, The Entrepreneurial Culture: 23 Ways To Engage and Empower Your People, helps corporations maximize the value of their human resources.
Currently they travel the world leading workshops, trainings, & keynoting at business schools, corporations, conferences. They are regular media guests and contributors to international publications and professional journals. They are C-Suite Network Advisors & Contributing Editors. Visit their popular brand building site at www.consumerbrandbuilders.com.
To make inquiries for keynote speaking, trainings or consulting, please contact sales@thebarefootspirit.com.