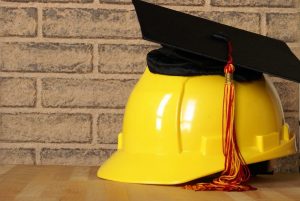 We were honored to be invited to the Stanford University 126th Commencement. Our friend Zach Steward has done it again! Two years ago, we saw him get his Bachelor's in Mechanical Engineering. This year he was awarded a Masters. Quite a feat! Just trying to imagine all the technical information he had to master is head spinning. Engineering is exacting, numerical, and disciplined. No room for error.
That's why we were so surprised with what the commencement speaker, Professor Ken Goodson, Engineering Chair, had to say. It was far from what we expected for such a defined science, but very appropriate for this occasion.
He began with the congratulations and acknowledgements these new grads deserved for all the long hours and sacrifice that brought them to this incredible milestone. He then went on to describe a world where every day you hear and read about the demand for the very skills they studied. He recounted the threats of global warming, food, water and power shortages, as well as shelter and transportation challenges that are becoming acute. He said the grads were well armed with technical information and the knowledge of how to use it. He hoped, with the education they had gained at Stanford, they would take the lead in solving these problems.
Then, he said there's nothing holding you back …except possibly your own personalities. He said strict focus on the technical skills can hurt you in the social skills department. And it is social skills that inevitably make the difference in your success.
He recommended three important social traits that he hoped the grads would develop that would propel them in their careers:
Empathy (and its cousin, Humility). Put yourself in the other person's shoes. Find out what they want first. Look at it from their standpoint. Don't think because you have the technical answers that you have the hubris to dismiss their concerns. On the contrary, embrace others and you will be more respected, have more credibility, and be more successful at helping them.
Expect a solution. Look for the answer. When you do, you will be more likely to find it. Don't be discouraged by cynical news or discouraging media chatter. Focus on the job at hand and follow through. When you work with others, look for the best in them and know they will improve. Your attitude can make the difference.
Passion for Impact. Allow yourself to be driven by a burning desire to change the world for the better. Know you have the state-of-the-art tools available to handle the world's challenges, and use your relentless passion to make a positive impact. Apply your education combined with your enthusiasm to overcome all obstacles. Your passion will keep you going and your vision will guide you.
Wow! We couldn't agree more with these thoughtful sentiments. It's the best advice we've ever heard for young technical grads.
There was a time, not too long ago, when technical folks were in such demand and on such pedestals that the rest of us wondered if social skills were taking a back seat to algorithms.  But as long as people are working with others to accomplish their dreams, social skills will be required in every direction of life, even in engineering. Getting the approval and cooperation of others will always require Empathy, Optimism, and Passion.
All of us can benefit by making these skills a part of our lives. Congratulations to every 2017 graduate, no matter their school or course of study!
Who We Are
Michael Houlihan and Bonnie Harvey co-authored the New York Times bestselling business book, The Barefoot Spirit: How Hardship, Hustle, and Heart Built America's #1 Wine Brand. The book has been selected as recommended reading in the CEO Library for CEO Forum, the C-Suite Book Club, and numerous university classes on business and entrepreneurship. It chronicles their humble beginnings from the laundry room of a rented Sonoma County farmhouse to the board room of E&J Gallo, who ultimately acquired their brand and engaged them as brand consultants. Barefoot is now the world's largest wine brand.
Beginning with virtually no money and no wine industry experience, they employed innovative ideas to overcome obstacles, create new markets and forge strategic alliances. They pioneered Worthy Cause Marketing and performance-based compensation. They built an internationally bestselling brand and received their industry's "Hot Brand" award for several consecutive years.
They offer their Guiding Principles for Success (GPS) to help entrepreneurs become successful. Their book, The Entrepreneurial Culture: 23 Ways To Engage and Empower Your People, helps corporations maximize the value of their human resources.
Currently they travel the world leading workshops, trainings, & keynoting at business schools, corporations, conferences. They are regular media guests and contributors to international publications and professional journals. They are C-Suite Network Advisors & Contributing Editors. Visit their popular brand building site at www.consumerbrandbuilders.com.
To make inquiries for keynote speaking, trainings or consulting, please contact sales@thebarefootspirit.com.