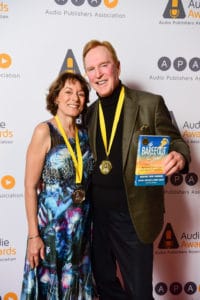 Stephen King was there for a special award of recognition. Michele Obama, Meryl Streep, Tom Hanks and other Hollywood stars were lauded for their narrations. And Michael and Bonnie were there to accept their medallion for Finalist in the Business/Personal Development category!
That's right! The Barefoot Spirit made it to the finals at the 2020 Audiobook Publishers Association's Awards competition!
Last night, tucked under the Queens Borough Bridge in Manhattan, the 2020 Audiobook Publishers Association Audie Awards Gala was presented at the elegant Gustavino's, complete with red carpets, cameras, champagne, and celebrities. Folks were dressed to the nines to celebrate the Audiobook Publishers Association's (APA) 25TH year in hopes that they would bring home the top awards. This was clearly a big deal for the audiobook industry and we were honored to be included with all the glitterati.
According to the MC, one in every two Americans listened to at least one audiobook last year and the industry made a whopping one billion dollars in sales. As more and more listeners discover the freedom of true mobile entertainment, audiobook growth is taking off fast.
The APA is supported mainly by the big publishers, so it was quite a compliment when a former judge in our category said, "You guys are self-published? You are very fortunate to have made it all the way to Finalist!" Along with Harpers, MacMillan, Penguin, and all the other Big Boys, here comes Michael and Bonnie's The Barefoot Spirit, self-published by Footnotes Press, LLC. We proudly wore our finalists award medallions all evening! It appears we were the only self-published audiobook to make it to the final round!
Out of only five finalists in our category, ours was the only one that was performed and fully-casted rather than strictly narrated. We would like to think that the distinction was recognized by the Association. We are grateful that the APA has recognized the value of this pioneering initiative to convey business principles and preserve founders' legacies with Business Audio Theatre (BAT). This acknowledgement gives a level of credibility to performed business audiobooks.
While we were in New York, we were interviewed on C-Suite TV. They were interested in the APA recognition, but more keenly focused on the potential for Business Audio Theatre when used as an onboarding tool to help increase engagement and reduce turn over. They wanted to know how this new technology could be employed to preserve a founder's legacy and improve company culture.
Founders can't be there forever, and they know it. Sooner or later they must turn over the reins of leadership to the next generation. They worry about their companies becoming complacent, mired in compliance, and turf battles breaking out between the increasingly specialized divisions.
Will it be "just another job" for their future employees? Would they just as soon work anywhere? Or do they identify with their new company? How can companies keep their Founder's spirit alive? We believe the best way to convey business principles is through story. And the best way to convey story is through an audio performance that entertains and  engages the listener's imagination while it educates. And what if that listener is your company's new hire? And what if your company's story and principles are handed to them on day one in an MP3 format?
Having created and published an acclaimed example of BAT in The Barefoot Spirit audiobook, having perfected the process of conversion of story to audio play, and having partnered with a Hollywood production company, Sherwood Players that has actually done it, we are in a truly unique position to offer this new tool to founders and their companies.
That's the promise of Business Audio Theatre and that's why the audiobook industry's recognition means so much to us. We can create a compelling on-boarding tool to help other founders keep their spirit alive and preserve their company's history. Check it out at BusinessAudioTheatre.com.
Who We Are
Michael Houlihan and Bonnie Harvey co-authored the New York Times bestselling business book, The Barefoot Spirit: How Hardship, Hustle, and Heart Built America's #1 Wine Brand. The book has been selected as recommended reading in the CEO Library for CEO Forum, the C-Suite Book Club, and numerous university classes on business and entrepreneurship. It chronicles their humble beginnings from the laundry room of a rented Sonoma County farmhouse to the board room of E&J Gallo, who ultimately acquired their brand and engaged them as brand consultants. Barefoot is now the world's largest wine brand.
Beginning with virtually no money and no wine industry experience, they employed innovative ideas to overcome obstacles, create new markets and forge strategic alliances. They pioneered Worthy Cause Marketing and performance-based compensation. They built an internationally bestselling brand and received their industry's "Hot Brand" award for several consecutive years.
They offer their Guiding Principles for Success (GPS) to help entrepreneurs become successful. Their book, The Entrepreneurial Culture: 23 Ways To Engage and Empower Your People, helps corporations maximize the value of their human resources.
Currently they travel the world leading workshops, trainings, & keynoting at business schools, corporations, conferences. They are regular media guests and contributors to international publications and professional journals. They are C-Suite Network Advisors & Contributing Editors. Visit their popular brand building site at www.consumerbrandbuilders.com.
To make inquiries for keynote speaking, trainings or consulting, please contact sales@thebarefootspirit.com.