It's All Climate-Related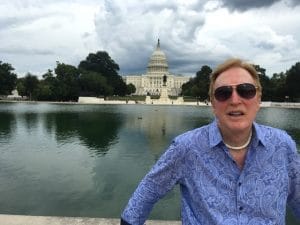 We just returned from Washington, DC, where we spent the better part of a week. It was hot! Not just hot, but all-time record hot at night! Just when you thought it would finally cool down, nighttime broke all the records for heat. It is hard not to notice that something is wrong with the weather. Two years ago we watched urban firestorms in our home state of California. And last year the Paradise fire put a pall of toxic smoke in the air statewide for a week. People are still coughing!
Meanwhile, back in DC, they're talking about the misdeeds of the president, immigration, and healthcare …not the climate crisis! It's interesting, however, to realize that continued climate denigration is supported by the petroleum industry that seems to have a stranglehold on the Environmental Protection Agency, immigration is driven by crop failures in Central America due to unprecedented and persistent heat, and health care costs are about to skyrocket as the health effects of a hotter planet are further demonstrated. Let's face it – it's all climate-related!
Candidate for Defeating Climate Change
When you read the pundits before the Oscars, they always say something like "Here's who should win the Oscar, and here's who will win!" That's sort of how it is right now with the 2020 election. There's only one candidate who really gets what we are talking about here, but he doesn't have a chance with all the noise, hype, and distraction. Most Americans never heard of Jay Inslee, the Governor of the other Washington, Washington state. He should win the election but probably won't.
"Our country's next mission must be to rise up to the most urgent challenge of our time – defeating climate change," says Inslee in his March 2019 announcement video. He says he is not a one-issue candidate but sees climate as an umbrella under which all the other issues are affected. His platform is to build a carbon-free economy that will produce more jobs and save us from the worst aspects of the climate crisis. According to the US News and Worlds Report and USA Today, Washington is consistently in the top 10 state economies. Inslee attributes his success to Washington's progressive views that attract business and especially alternative solutions.
Inslee argues that,
"This is the first generation to feel the sting of the climate change and the last generation that can do anything about it."
How many more fires, floods, hurricanes and crop failures will it take for the voters to realize that the climate crisis is a real existential threat to our lives, economy, and health? The recent National Geographic Survey showed that Americans are beginning to figure it out, but will we take action in time?
Climate Crisis is Here…
As businesspeople, we support young entrepreneurs with our experience and connections. We want the best future for them and the economy. We don't usually get political in our blogs. However, we are at a point where we can no longer ignore the biggest existential threat to our economy and national security. We must take the long view to protect those entrepreneurs and their future. The short view will have us spending all our time on simply surviving.
There's a good reason why the City of New York has joined so many other governments in changing the terminology for what's happening from "climate change" and "global warming" to "climate crisis." It's not gradual. It's not off in the future. It's here. It's climate refugees at our borders, heat strokes and respiratory patients in our hospitals, and giant infrastructure repair bills, all resulting in higher taxes, health insurance premiums, and costs of living. It's really hard to separate these national (and global) issues form the climate crisis when the low temperatures in the nation's capital are at an all-time high!
For our part, we have used our platform to shine a light on businesses that are making a buck by making a difference. Check out our recent articles in Entrepreneur.com. What are you doing about it?
Who We Are
Michael Houlihan and Bonnie Harvey co-authored the New York Times bestselling business book, The Barefoot Spirit: How Hardship, Hustle, and Heart Built America's #1 Wine Brand. The book has been selected as recommended reading in the CEO Library for CEO Forum, the C-Suite Book Club, and numerous university classes on business and entrepreneurship. It chronicles their humble beginnings from the laundry room of a rented Sonoma County farmhouse to the board room of E&J Gallo, who ultimately acquired their brand and engaged them as brand consultants. Barefoot is now the world's largest wine brand.
Beginning with virtually no money and no wine industry experience, they employed innovative ideas to overcome obstacles, create new markets and forge strategic alliances. They pioneered Worthy Cause Marketing and performance-based compensation. They built an internationally bestselling brand and received their industry's "Hot Brand" award for several consecutive years.
They offer their Guiding Principles for Success (GPS) to help entrepreneurs become successful. Their book, The Entrepreneurial Culture: 23 Ways To Engage and Empower Your People, helps corporations maximize the value of their human resources.
Currently they travel the world leading workshops, trainings, & keynoting at business schools, corporations, conferences. They are regular media guests and contributors to international publications and professional journals. They are C-Suite Network Advisors & Contributing Editors. Visit their popular brand building site at www.consumerbrandbuilders.com.
To make inquiries for keynote speaking, trainings or consulting, please contact sales@thebarefootspirit.com.