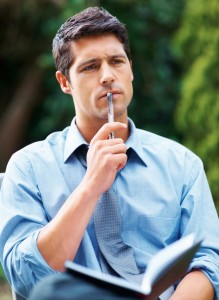 Before New Years arrives with all the resolutions we're bound to make and break, we thought we would share a tool we have used over the years to help us achieve our goals. We call it our Goal Book.
It's pretty simple really, just a 3-ring binder that takes 5½ by 8½ inch paper and has index dividers. We use it to write down our goals and log in the achievements that occur bringing us closer to their fruition.
Our Goal Book has evolved over the years and yours will, too. We will spend the next few blog entries describing how we have used this powerful tool in more detail. Call it symbolic, or ritual, or make it a game! But there's something about being tactile, handling a book, turning the pages, and hand writing your entries that is not only satisfying, but encouraging. We've found that the process itself of making goals and logging your progress in a special goal book exclusively used for this purpose provides many advantages:
Make it a Real. While we're sure you could adopt one of the many digital calendar programs available to achieve a similar data file for your smart device, it would not be the same. An actual physical book that sits out in a designated place is a daily reminder that you have goals, and more importantly, that you are making progress toward them. We use a notebook with a durable cover and zipper so it keeps the filler paper clean and contains other notes that we may stick in from time to time. Plus it's green, the color of nature, so it encourages us to take it along on picnics, hikes and camping trips.
Make it Organized. Think of it like a tree with a trunk, branches, twigs and leaves. Identify the major branches or goal categories first. Write the name of the category on the index tabs. We chose health, home, spirit, business, wealth, social, and travel, but you may divide up your categories differently. We will talk more about this in a later post, but for now, think about what categories your major goals are for the year, and see what categories they fall into. At the end of the year, review it and see what goals you have achieved, and what goals need more time. Goals vary, but the categories pretty much stay the same from year to year.
Make it a Game. As the year begins to unfold make it a point to update your goal book on a weekly basis. Under each category, post the date and what achievements have been made that week toward each particular goal. If you miss a week, just enter 2 weeks worth of progress. When something good happens that moves you closer to your goal, you'll find that you just can't wait to post it in the appropriate place. Your goal book will seem to beckon you from the shelf. You begin to look for progress and even expect it, which keeps you focused. When there is no progress, that's the time to go back and read the achievements you have made in the past toward that goal.
We have a friend, who, when asked if she has achieved her goal yet, says, "I am making progress!" Keeping a Goal Book constantly reminds you of the progress you are making. Next time we will explore how to divide up your goal categories and how to identify the goals within each of them.
Who We Are
Michael Houlihan and Bonnie Harvey co-authored the New York Times bestselling business book, The Barefoot Spirit: How Hardship, Hustle, and Heart Built America's #1 Wine Brand. The book has been selected as recommended reading in the CEO Library for CEO Forum, the C-Suite Book Club, and numerous university classes on business and entrepreneurship. It chronicles their humble beginnings from the laundry room of a rented Sonoma County farmhouse to the board room of E&J Gallo, who ultimately acquired their brand and engaged them as brand consultants. Barefoot is now the world's largest wine brand.
Beginning with virtually no money and no wine industry experience, they employed innovative ideas to overcome obstacles, create new markets and forge strategic alliances. They pioneered Worthy Cause Marketing and performance-based compensation. They built an internationally bestselling brand and received their industry's "Hot Brand" award for several consecutive years.
They offer their Guiding Principles for Success (GPS) to help entrepreneurs become successful. Their book, The Entrepreneurial Culture: 23 Ways To Engage and Empower Your People, helps corporations maximize the value of their human resources.
Currently they travel the world leading workshops, trainings, & keynoting at business schools, corporations, conferences. They are regular media guests and contributors to international publications and professional journals. They are C-Suite Network Advisors & Contributing Editors. Visit their popular brand building site at www.consumerbrandbuilders.com.
To make inquiries for keynote speaking, trainings or consulting, please contact sales@thebarefootspirit.com.