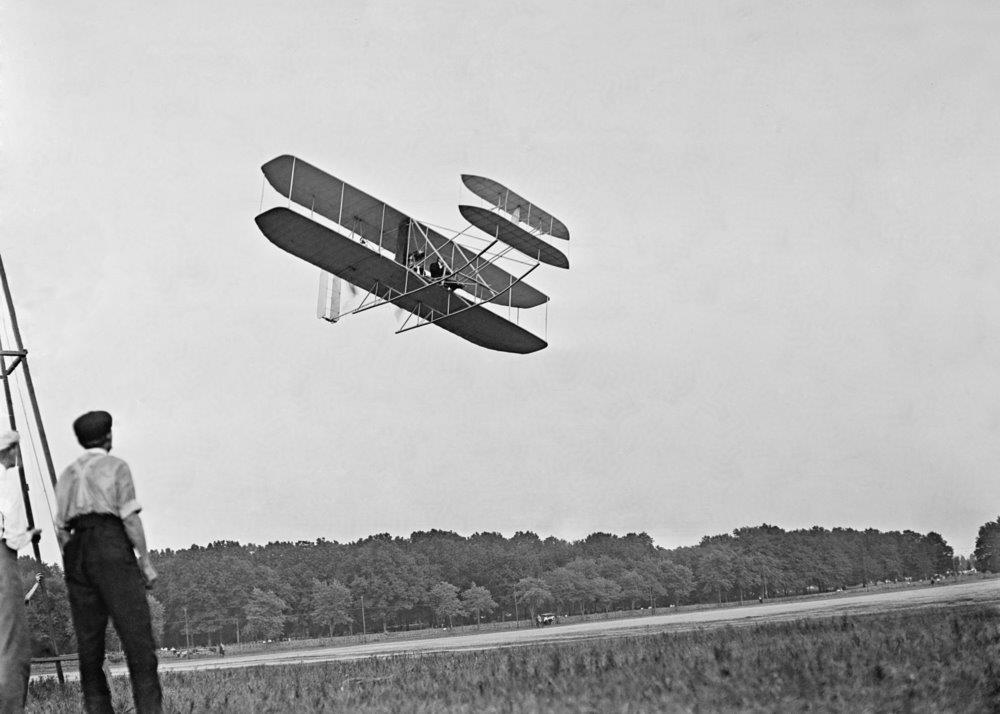 The Wright Brothers came from humble origins to change history. It's hard to believe as we cruise across the continent at 30,000 feet that the initial flight of man was slightly further than the wing span of most of today's modern commercial aircraft. They built their original airplane with less than $1000 in supplies. But what we especially like about their story is that it underlines the guiding principles for success that we recommend to aspiring entrepreneurs and startups.
Two-time Pulitzer Prize winner David McCullough has blessed us with yet another masterpiece of historical story-telling in his new book, The Wright Brothers. Recently we heard his PBS interview on our way to the airport to take a flight to speak about entrepreneurship to college students.
David carefully researched the lives of these two American heroes and their sister who played a pivotal role in their success. It is a must read for any aspiring entrepreneur and underlines the basic guiding principle for success we call "The Entrepreneur's GPS." Our new video webinar on this subject, over a year in the making, will be out soon and we hope our attendees will take those principles to heart and soar with their own dreams.
The Wright Brothers used guiding principles for success in the following ways:
Ask for Help. They practiced practical humility by readily admitting they didn't know it all, but they were not ashamed to ask for help. For instance, they asked the Smithsonian Institute for any books or reports they may have on the subject of powered flight and studied them intensely. They asked the US Department of Weather where they would encounter sustained winds which lead them to Kitty Hawk.
Be Resourceful. They were without outside funding and did their project solely with their own money, made all of their own parts, and survived on a modest income from their bicycle business. They read incessantly. Even though they had but a high school education, they were self-taught by consuming a large supply of books their preacher-father made available to them.
Communicate Effectively. They were skilled in the art of the English language and used that expertise to communicate what they were attempting and to engage the help of others. Their convincing use of the language reminds us that the Liberal Arts may just be the best education for entrepreneurship. Their knowledge of history and literature helped them understand how to convey their needs and intentions to others.
Be Determined. The Wright Brothers never gave up. They took incredible risks. For one thing, they knew that every time they tried to fly, they could very well be killed. They deliberately chose the soft sands at Kitty Hawk to cushion any potential crash. They continued on in spite of their growing reputation that they were "nice fellows but just a little off." In spite of setbacks, limited funds and the time it took to make it happen, they were persistent. When they eventually achieved their mission of powered flight it was dismissed as a hoax. Only after five years, when the French (not the US) sent a delegation to Kitty Hawk and they were invited to France to demonstrate their flying machine, did the world finally get it.
We appreciate David McCullough for reminding us at this particular time, when we seem to be swept away by technology, that there are some good old fashioned American values that we would all do well to revisit and apply to our own ventures. Want your ideas to take off? Use The Entrepreneur's Guiding Principles for Success to get them off the ground and keep them flying.
Who We Are
Michael Houlihan and Bonnie Harvey co-authored the New York Times bestselling business book, The Barefoot Spirit: How Hardship, Hustle, and Heart Built America's #1 Wine Brand. The book has been selected as recommended reading in the CEO Library for CEO Forum, the C-Suite Book Club, and numerous university classes on business and entrepreneurship. It chronicles their humble beginnings from the laundry room of a rented Sonoma County farmhouse to the board room of E&J Gallo, who ultimately acquired their brand and engaged them as brand consultants. Barefoot is now the world's largest wine brand.
Beginning with virtually no money and no wine industry experience, they employed innovative ideas to overcome obstacles, create new markets and forge strategic alliances. They pioneered Worthy Cause Marketing and performance-based compensation. They built an internationally bestselling brand and received their industry's "Hot Brand" award for several consecutive years.
They offer their Guiding Principles for Success (GPS) to help entrepreneurs become successful. Their book, The Entrepreneurial Culture: 23 Ways To Engage and Empower Your People, helps corporations maximize the value of their human resources.
Currently they travel the world leading workshops, trainings, & keynoting at business schools, corporations, conferences. They are regular media guests and contributors to international publications and professional journals. They are C-Suite Network Advisors & Contributing Editors. Visit their popular brand building site at www.consumerbrandbuilders.com.
To make inquiries for keynote speaking, trainings or consulting, please contact sales@thebarefootspirit.com.