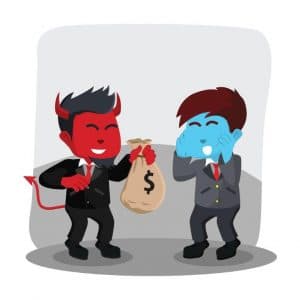 These days it seems like most people believe that you can't start a business without some sort of venture capital financing. Shark Tank, Silicon Valley, and most of the business publications underscore this popular premise. In fact, the business plan is now viewed as an application for venture financing. The idea seems to be, come up with an idea and get it financed, and you are golden.
But you're not. Far from it! Now you have given up equity to raise capital that you can spend in ways that may not be necessary or effective. Now you have given yourself the false sense of security that because your plan got financing, it must be right.  Now that you have secured a "runway" and "burn rate," you attract service suppliers interested in grabbing some of that capital. They want to sell you goods and services you don't necessarily need, including staff, facilities, and other overhead with monthly bills hungry for your money. Have you made adequate sales to justify those expenditures?
So, now you have funded your company without thoroughly understanding the sales or growth process, especially the most often overlook and underestimated expense: the cost of sales. Do you even know what it costs to make sales?  And what it costs to service what you sell? Now you can get into trouble because the only funds you have are from financing …and you are burning through that at an alarming rate. Pretty soon, you go back for a second and third round of financing and you give up more of your equity.
We have heard many startup founders say, "We had to close down because we couldn't raise additional capital." But that's not the real reason! They simply didn't have sufficient revenue to achieve a positive cash flow given their hasty commitment to overhead. In other words, they focused on production and administration instead of sales.
There's a good reason why VC's look for returns that are ten to twenty-five times their investment. They are losing on nine to twenty-four of their investments.
On the other hand, the startup using the Barefoot Spirit focuses on achieving a positive cash flow much sooner. It's not as sensational as the promise of "six digits in six months," but it is solidly based on sustainability. It's not the glamorous rocket to the top, but it is a practical way to discover the true cost of sales before you get over-extended or commit yourself to regular monthly bills you just can't sustain. It's not an instant success that's crushing it on a national scale, but it is a slow, step-by-step process that is deliberately small in scale to allow you to get  the real market education you need to make sensible growth decisions and preserve your equity.
The Barefoot Spirit is an attitude and a philosophy that puts you in the other guy's shoes at every turn. From your own people to your vendors, from your supplies to your bankers, from your distributers to your retailers – learn what they want. This is how you discover your strategic allies, be more resourceful, and save time and money. This is how you can grow your business on a positive cash flow!
The Barefoot Spirit has proof that you can do it without VC money. And you may even do it better.
In the coming months, we will be describing and advocating the Barefoot Spirit approach to starting a business. Isn't it about time we got back to basics?
Who We Are
Michael Houlihan and Bonnie Harvey co-authored the New York Times bestselling business book, The Barefoot Spirit: How Hardship, Hustle, and Heart Built America's #1 Wine Brand. The book has been selected as recommended reading in the CEO Library for CEO Forum, the C-Suite Book Club, and numerous university classes on business and entrepreneurship. It chronicles their humble beginnings from the laundry room of a rented Sonoma County farmhouse to the board room of E&J Gallo, who ultimately acquired their brand and engaged them as brand consultants. Barefoot is now the world's largest wine brand.
Beginning with virtually no money and no wine industry experience, they employed innovative ideas to overcome obstacles, create new markets and forge strategic alliances. They pioneered Worthy Cause Marketing and performance-based compensation. They built an internationally bestselling brand and received their industry's "Hot Brand" award for several consecutive years.
They offer their Guiding Principles for Success (GPS) to help entrepreneurs become successful. Their book, The Entrepreneurial Culture: 23 Ways To Engage and Empower Your People, helps corporations maximize the value of their human resources.
Currently they travel the world leading workshops, trainings, & keynoting at business schools, corporations, conferences. They are regular media guests and contributors to international publications and professional journals. They are C-Suite Network Advisors & Contributing Editors. Visit their popular brand building site at www.consumerbrandbuilders.com.
To make inquiries for keynote speaking, trainings or consulting, please contact sales@thebarefootspirit.com.