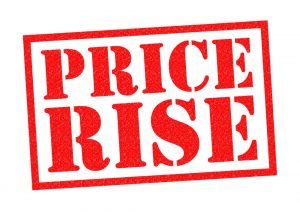 We used to think it was only common sense that the consumer would always bear the brunt of higher prices that any trade wars cause. But we guess we were wrong. We guess we have to learn that one all over again. In these days of high tech memory devices, why can't we seem to remember this historical fact? Tariffs on both sides of a trade war always result in lost jobs, closed businesses, and higher prices.
What's more, they tend to export jobs as businesses reliant on supplies from countries now facing an import tax, simply move to another country where they can get those supplies free of tariffs. Further, exporters tend to move out of the country, so they don't have to pay retaliatory taxes put in place by the country they were exporting to. Net result, loss of jobs.
The companies that remain must raise their prices to pay the tariffs on the imported products they need to manufacture their finished products. Two things happen. First, their customers pay a higher price and order less. And second, foreign competitors move into the space with finished products. Net result, loss of business for domestic companies, loss of domestic jobs, and higher prices for domestic consumers. Bad news all the way around.
Trade wars may start out "tit for tat' but when one side has a trade surplus, they have no choice but to escalate into other areas of business. American business ventures in the country with the surplus are now subject to "punishment." This comes in the form of denied licenses, and other entitlements, restrictions on removal of funds, and subjection to heavy scrutiny with massive inspections, fines, and closures.
"But what about all the unfair trade practices the other side has been using against us?" many will ask. "How else can you get their attention?' some may argue. And that's it! "How else?" Let's find another way through diplomacy or trade advantages to make cheating not worth their while. This current, simpleminded and archaic approach is destined for failure. Nobody wins. Certainly not American business and absolutely not the American consumer.
You have to remember, the reason today's goods are so affordable, and one of the reasons Americans have such a high standard of living, is the fact that the lowest prices in labor and materials are incorporated in those goods.
Also, one of the reasons Americans enjoy some degree of security is that even though our top trading partner has nukes and expansionist aspirations, we are still its top trading partner. They need us to be healthy, wealthy, and intact. In other words, trade is the foundation for peace, and peace is the foundation for security, business, employment, and a higher standard of living.
"But what about all the jobs that have been lost?" some would ask. Consider all the jobs that have been created? Sure, they may be in different industries, and sure, they may require different skills. But America is still the leading exporter of information technology and agriculture to name a few. We can't bring back the horse and buggy to save the buggy whip maker's job. But we did offer those whip makers jobs in the auto industry.
Americans have always been inventors, creators, and disruptors. They are especially skilled at new applications, new products, and new solutions. Our consumers deserve the best prices in the world. Our startups deserve the lowest prices on the materials they need to build those new businesses domestically and keep them here.
Let's not start pulling plugs before we know what light they keep on. Let's not relearn the lessons from the last trade war where nobody won!
Who We Are
Michael Houlihan and Bonnie Harvey co-authored the New York Times bestselling business book, The Barefoot Spirit: How Hardship, Hustle, and Heart Built America's #1 Wine Brand. The book has been selected as recommended reading in the CEO Library for CEO Forum, the C-Suite Book Club, and numerous university classes on business and entrepreneurship. It chronicles their humble beginnings from the laundry room of a rented Sonoma County farmhouse to the board room of E&J Gallo, who ultimately acquired their brand and engaged them as brand consultants. Barefoot is now the world's largest wine brand.
Beginning with virtually no money and no wine industry experience, they employed innovative ideas to overcome obstacles, create new markets and forge strategic alliances. They pioneered Worthy Cause Marketing and performance-based compensation. They built an internationally bestselling brand and received their industry's "Hot Brand" award for several consecutive years.
They offer their Guiding Principles for Success (GPS) to help entrepreneurs become successful. Their book, The Entrepreneurial Culture: 23 Ways To Engage and Empower Your People, helps corporations maximize the value of their human resources.
Currently they travel the world leading workshops, trainings, & keynoting at business schools, corporations, conferences. They are regular media guests and contributors to international publications and professional journals. They are C-Suite Network Advisors & Contributing Editors. Visit their popular brand building site at www.consumerbrandbuilders.com.
To make inquiries for keynote speaking, trainings or consulting, please contact sales@thebarefootspirit.com.