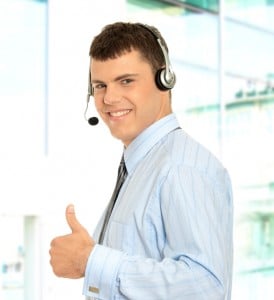 Ever since the beginning of Return Desks and 800 numbers, companies have become more directly accountable to their consumers for quality and value. Before their existence, customers would just buy another brand if they were dissatisfied. Today most companies have a department or person dedicated to "customer service". Rather than merely a complaint center, see it as the place where your company gets real and timely feedback about your goods and services from the very folks who are using them. If you really listen, you can capitalize on this, stay ahead of your competition, and keep and grow your customer base.
Here are some critical issues your Customer Service Department should know, and suggested actions to improve customer loyalty.
1. Every complaint represents hundreds of former customers who did not take the time to communicate their displeasure. They just quietly bought a competing brand. If someone takes the time to call you, you can be sure they will take the time to tell others about your product. Be sure they have something good to say.
2. Don't give them their money back or they will still believe that your product is inferior. Show them that your company stands behind its product by giving them more product that hopefully does not have the flaw. Now they are more likely to tell their friends something positive about it.
3. Don't let your consumers' feedback die with resolution. Many improvements to your product and service originate from either your sales staff or your customer service department. What they find out about the product, its quality, and the improvements requested should go straight to production and marketing. Since all profits come from sales, your entire staff must realize that their salaries are dependant on future sales, which could be threatened by ignoring your customers' feedback.
4. Many calls are not complaints. They may be accolades and appreciation, perhaps suggestions for new or improved products, or even inability to access your product. If the customer is really number one in your company, production and marketing will not ignore this precious input.
5. Be proactive. Ask each caller a set of questions to determine as much as you can about their experience with the product. Where did they buy it? When? How much did they pay? How long have they been a customer? Determine how you can resolve the issue in a way that promotes the product and gives them what they need.
6. The best time to make a customer a spokesperson for the brand is when you have a customer on the line. You have an opportunity to educate them about improvements, increased access or new products. Their word of mouth networking has more credibility than any expensive advertising. This is a real sales opportunity that should be maximized. Be sure to thank everyone for taking the time to contact you.
After Sales, the Customer Service Department is the most important department in your company because it speaks directly with the end-user and provides the direction the company needs to improve and grow. It's where the rubber meets the road!
Who We Are
Michael Houlihan and Bonnie Harvey co-authored the New York Times bestselling business book, The Barefoot Spirit: How Hardship, Hustle, and Heart Built America's #1 Wine Brand. The book has been selected as recommended reading in the CEO Library for CEO Forum, the C-Suite Book Club, and numerous university classes on business and entrepreneurship. It chronicles their humble beginnings from the laundry room of a rented Sonoma County farmhouse to the board room of E&J Gallo, who ultimately acquired their brand and engaged them as brand consultants. Barefoot is now the world's largest wine brand.
Beginning with virtually no money and no wine industry experience, they employed innovative ideas to overcome obstacles, create new markets and forge strategic alliances. They pioneered Worthy Cause Marketing and performance-based compensation. They built an internationally bestselling brand and received their industry's "Hot Brand" award for several consecutive years.
They offer their Guiding Principles for Success (GPS) to help entrepreneurs become successful. Their book, The Entrepreneurial Culture: 23 Ways To Engage and Empower Your People, helps corporations maximize the value of their human resources.
Currently they travel the world leading workshops, trainings, & keynoting at business schools, corporations, conferences. They are regular media guests and contributors to international publications and professional journals. They are C-Suite Network Advisors & Contributing Editors. Visit their popular brand building site at www.consumerbrandbuilders.com.
To make inquiries for keynote speaking, trainings or consulting, please contact sales@thebarefootspirit.com.